Enjoy Alaska with Regent... It's All-Inclusive!
- FREE Roundtrip Air
- FREE Transfers Between Airport and Ship
- FREE Unlimited Shore Excursions
- FREE Pre-Paid Gratuities
- FREE Unlimited Beverages Including Fine Wines and Premium Spirits
- FREE Specialty Restaurants
- FREE Unlimited WiFi Internet
- FREE 1 Night Pre-Cruise Luxury Hotel Package When Booking a Concierge Suite or Higher
ALASKA is what the Earth must have looked like at the dawn of Early Man. More wilderness than can be charted. More wildlife than can be counted: bears, bald eagles, moose, deer, whales, spawning salmon. Discover these and more with a luxury Alaska cruise. Perhaps no land captures the adventurous frontier spirit better than Alaska. And what better way to enjoy its great beauty than from the comfortable elegance of the Seven Seas Navigator. Not only is the smaller size of our ship designed for a more intimate Alaskan experience, we also offer personalized, off-the-beaten-path tours. Imagine flying into the natural habitat of magnificent black bears for an up-close experience you'll never forget.
Cruising on a smaller ship make a big difference in Alaska. After all, how can you feel moved by the majesty of it all when your waiting in line? Our tours allow a behind the scenes, hands on experience of this vast frontier. You can go rappelling along the Yukon Trail or go-carting in a private forest reserve. Try bottom fishing for halibut and enjoy your catch for dinner. And do bring the kids. Jean-Michel Cousteau's Ambassador of the Environment Youth Circles of Interest is now available in Alaska on select sailings.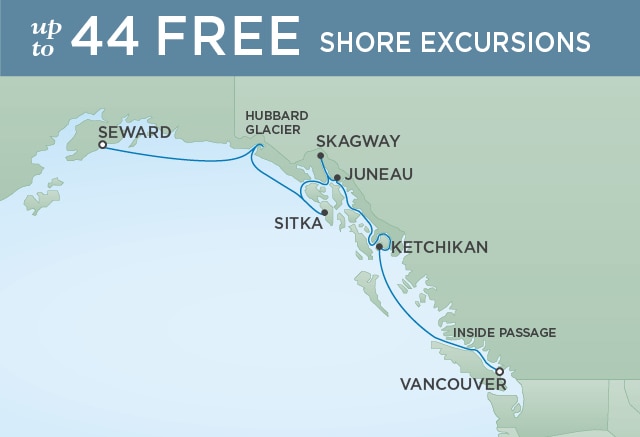 onboard Seven Seas Mariner
7 Night Luxury All-Inclusive Alaska Cruises
Northbound Cruise Itinerary:
Day 1 - Vancouver, Canada
Day 2 - Inside Passage Cruising
Day 3 - Ketchikan, Alaska
Day 4 - Juneau, Alaska
Day 5 - Skagway, Alaska
Day 6 - Sitka, Alaska
Day 7 - Hubbard Glacier Cruising
Day 8 - Seward, AK
2019 Dates:

June 5*, 12, 19*, 26
July 24, 31*
August 7, 14*, 21, 28*
September 4, 11*
*Cruise travels in reverse direction.
Balcony Suites From $3999 US
Cruising2Alaska.com Will Include Spa Credits On Every Sailing!

Alaska Cruise Highlights:
Ketchikan - Ketchikan, on the southwest side of Revillagigedo Island, grew up around salmon canneries and sawmills. Ketchikan's name supposedly comes from the native term Katch Kanna, which roughly translates: spread wings of a thundering eagle. At one time Ketchikan was proclaimed the Salmon Capital of the World. An outstanding collection of totem poles make a visit to Ketchikan essential for anyone interested in Native art. Travelers flock to Ketchikan for their first look at the North Country, and are rarely disappointed.
Tracy Arm Cruising - This stupendous fjord is part of the 30 mile long Tracy Arm - Fords Terror Wilderness region -- located about 60 miles southeast of Juneau. Tracy Arm charms the traveler with snow capped peaks, shear rock palisades, waterfalls, rainbows and massive tidewater glaciers. Drift among the icebergs for close-up view of Sawyer Glaciers, gleaming subtle shades of blue under a glorious expansive sky. Be sure to watch for seals and whales frolicking among the clear, cerulean waters.
Juneau - In 1880, Joe Juneau and Richard Harris were prospecting for gold with the help of Indian guides. Here they discovered nuggets as large as beans at the mouth of the aptly named Gold Creek. Out of their discoveries came three of the largest gold digs in the world where more than $150 million in gold was mined. Juneau's surrounding beauty and natural wonders have attracted cruise ship travelers for over a century, with steamship companies bringing tourists here since the early 1880's.
Sitka - Founded by Russian fur traders as New Archangel in 1799, Sitka was the historic center of Russia's Alaskan empire. The Russian flag was replaced by the Stars and Stripes when the United States purchased the Alaska territory in 1867. Today, picturesque Sitka, is known for its fishing industry, an annual summer classical music festival and, of course, its many historic visitor attractions. On a clear day Sitka, the only city in southeast Alaska that actually fronts the Pacific Ocean, rivals Juneau for the sheer beauty of its surroundings.
Hubbard Glacier Cruising - Viewing the magnificent grandeur of immense glaciers is surely one of the highlights of a journey to Alaska. Sail along a cliff face over six miles wide, 300 to 400 feet from peak to sea level and 300 feet from sea level to the bottom. As Hubbard Glacier advances, listen to the symphony of creaks and groans as it moves and calves. This makes for some exciting moments when the huge chunks of ice crash into the bay creating a wonderful sound called white thunder by the Tlingit people. Please be advised that due to the under-developed nature of this destination, organized tours are not available.
Anchorage - Seward was originally founded in 1903 as the southern terminus for the Alaska Railroad, a distinction it still holds today. The picturesque harbor with its colorful wood-frame houses and background of soaring cliffs looks out on Resurrection Bay, so named by a band of Russians explorers who found this calm spot along the storm-tossed Gulf of Alaska on Easter Sunday. From downtown Anchorage you can view two active volcanoes, the highest point on the continent of North America (Mount McKinley), and six major mountain ranges.

Share unique experiences with the whole family, onboard and ashore. Take advantage of our great savings as children sail for just $999 US and enjoy FREE Unlimited Shore Excursions in every port of call. Plus, our Club Mariner Youth Program offers the opportunity for everyone to experience the excitement of exploring the world in a meaningful, enriching way.
The world's first all-suite, all-balcony ship, Seven Seas Mariner features four gourmet restaurants with open seating, generous amenities and a welcomed spaciousness. Catering to only 700 guests, her staff-to-guest ratio of 1 to 1.6 ensures the absolute highest level of personal service.
Seven Seas Mariner
- All-suite, all ocean view accommodations with private balconies for 700 guests
- Suites range in size from 301 to 1,275 square feet, including balcony
- Emphasis is on providing 700 guests a delightful experience
- All-inclusive beverage program including soft drinks, hot beverages and select wines and spirits served throughout the ship
- Two restaurants, plus casual Pool Grill
- Complimentary 24-hour room service
- All onboard gratuities are included

All pricing above is in US Dollars, per person. Port charges & taxes are additional. Pricing is based on two people sharing and subject to availability. The "From" price listed on our website is for the September 4th departure date; other dates may have different pricing, please inquire. All pricing is based on availability and subject to change by the cruise line at any time. For more information please contact one of our Alaska Specialists!