13 Day Alaska Wilderness Cruisetours On Sale!
It's like you've always imagined, only better - a land of epic attractions where superlatives aren't enough to capture the majesty of its towering mountains, sparkling waters and Ice-Age glaciers. Only Princess Cruises offers such a variety of ways to see the Great Land that ensures your vacation is a dream come true.
Alaska land & sea adventures that combine a 7 day cruise with multiple days on land, each visiting the state's top two wilderness attractions - Glacier Bay and Denali National Parks.
Our Exclusive Alaska Wilderness Cruisetour takes you into Alaska wilderness on land after a relaxing 7 night cruise! This special Alaskan Wilderness Cruisetour combines a 7 night cruise and a 5 night land tour package with Anchorage, Mt. McKinley, Denali National Park, and Fairbanks. Princess Cruises takes you into the Great Land of Alaska with Grand Princess, Star Princess and Pacific Princess from Vancouver. Don't delay booking your Alaska Cruise tour package as early booking deals are now on!
This package features 1 night in Anchorage, Alaska Wildlife Conservation Center visit, Princess Dome Train from Anchorage to Talkeetna, 1 night at the Mt. McKinley Princess Wilderness Lodge, 2 nights at at the Denali Princess Wilderness Lodge, Natural History Tour into Denali National Park, 2 nights in Fairbanks, Sternwheeler Riverboat Cruise, and Gold Dredge No 8 tour with lunch. Plus two glacier viewing experiences, including dazzling Glacier Bay National Park, and you'll visit the frontier ports of Skagway, Juneau and Ketchikan. Princess also offers an array of optional land excursions, allowing you to experience the area in every way imaginable, from dog sledding and horseback riding to kayaking, flightseeing, and more.
13 Day Alaska Wilderness Cruisetour
Highlights: 7 Night Voyage of the Glaciers Cruise PLUS 5 Night Land Tour Featuring 1 Night Anchorage, 1 Night Mt. McKinley Princess Lodge, 1 Night Denali Princess Lodge, 2 Nights Fairbanks
13 Day Alaskan Wilderness Cruisetour Itinerary:
Day 1 Vancouver, BC
Day 2 Inside Passage Cruising
Day 3 Ketchikan
Day 4 Juneau
Day 5 Skagway
Day 6 Glacier Bay National Park Cruising
Day 7 College Fjord Cruising
Day 8 Whittier / Anchorage
Disembark your ship and travel by motorcoach to Anchorage with a stop at the Alaska Wildlife Conservation Center enroute. Enjoy the evening at leisure.
Day 9 Anchorage / Mt. McKinley
Comfortable Princess Rail takes you from the civilized deep into the wilderness. Arriving at Talkeetna, you'll enjoy the scenic transfer to the Mt. McKinley Princess Wilderness Lodge, where your room and a magnificent view of the lodge's namesake mountain are awaiting you, as are an array of optional excursions.
Day 10 Mt. McKinley / Denali
Enjoy a scenic motorcoach drive to the Denali Princess Wilderness Lodge, located just outside the national park entrance. Why not get to know the splendor of the park with one of a variety of activities including a husky homestead tour, fly fishing or a glacier landing via helicopter.
Day 11 Denali / Fairbanks
This morning is a certain highlight - a Natural History Tour into Denali National Park. Then proceed via motorcoach along the George Parks Highway to Fairbanks, Alaska's "Golden Heart" city. Spend the evening immersing yourself in the Gold Rush history, Native culture and authentic hospitality of the city.
Day 12 Fairbanks
A full day in Fairbanks gives you time to get a feel for the unique culture and history of the region. You'll take a cruise on an authentic Sternwheeler Riverboat down the Chena River then enjoy a Gold Dredge #8 tour with the chance to pan for your own gold. A hearty miner's lunch is included. The evening is at leisure.
Day 13 Fairbanks
Your tour ends this morning in Fairbanks.
2019 Dates:
Northbound:
May 8, 11, 15, 18, 22, 25, 29
June 1, 5, 8, 12, 15, 19, 22, 26, 29
July 3, 6, 10, 13, 17, 20, 24, 27, 31
August 3, 7, 10, 14, 17, 21, 24, 28, 31
September 4, 7
Southbound:
May 13, 17, 24, 27, 31
June 7, 10, 14, 21, 24, 28
July 5, 8, 12, 19, 22, 26
August 2, 5, 9, 16, 19, 23, 30
September 2, 6
From $1849 US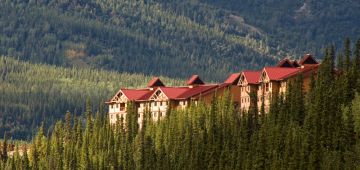 Optional activities are available to enhance your Alaska Wilderness Cruisetour vacation! Soar above the Arctic Circle on a flightseeing tour, enjoy an ATV adventure in Denali, visit an authentic homestead and spend time with a Native Alaska family, or kayak on a beautiful lake in Denali State Park.
Denali Princess Wilderness Lodge
This gorgeous Alaska lodge is the perfect starting point for your wilderness adventure. You haven't fully experienced Alaska unless you've been to Denali National Park. Its boundaries encompass an impressive six million acres - the size of the state of Massachusetts. Home to Mt. McKinley, North America's highest peak towers an unbelievable 20,320 feet in the sky. The Park hosts an array of wildlife from moose, caribou, Dall sheep and grizzly bears to gray wolves and red foxes. The Denali Princess Wilderness Lodge is the closest and most comfortable place to stay when visiting the park. The entrance to Denali National Park is located only a mile from our front door. With an expansive deck overlooking the Nenana River with views into the park, Denali Princess Wilderness Lodge is the ideal spot to relax, visit with friends, and savor the exquisite landscape.
Natural History Tour into Denali National Park
Glimpse the epic sweep of Denali National Park on this guided tour that travels 17 miles into Denali National Park and Preserve. Hear about the history and culture that surrounds you at a Living History presentation while visiting Savage Cabin. Find out about the local native culture and their stories at Primrose Ridge. The tour also stops at the Wilderness Access Center for a viewing of "Across Time & Tundra" - an award winning presentation on the building of the park road.

Fairbanks Riverboat Discovery Cruise & Gold Dredge No 8
Board the only remaining authentic Alaskan sternwheeler for a cruise along the Chena and Tanana rivers in Chena River State Recreation Area. With the feel of an old-time steamboat that frequented the river during the gold rush days, this modern-day riverboat features an open sun deck, heated glass enclosed decks and is equipped with video equipment so you won't miss any of the beautiful scenery. During this narrated cruise, you will witness the wedding of the rivers. The marriage of these two mighty rivers creates quite a unique line when the clear waters of the Chena meet the Tanana, the world's greatest glacier river carrying tons of glacial silt from the Alaska Range.
Your next adventure will be a visit to the home of Dave Monson and Susan Butcher, the late four-time Iditarod champion. Here, you will meet their winning sled dogs and witness a dog sleg demonstration. From there, continue on to the Old Chena Indian Village and disembark for a glimpse into Alaskan Native life and history. Alaskan Native guides will take you on a tour of an Athabascan Indian village, a spruce bark hut, a trapper's cabin made of spruce logs and show you how a fish wheel operates. Before boarding for your trip back, you'll have 15 minutes at the end of the tour to wander around the village or to take pictures
Next, board a train to visit the Gold Dredge 8, a National Historic Monument! Local miners will give a brief but informative course in mining, then you will try panning for yourself! You will find gold - we guarantee it! Nothing beats the thrill of grabbing a sack filled with pay dirt and getting your chance to strike it rich. Finally, explore the dredge camp and visit the gift shop where you can have your gold weighed and find out the dollar value based on the current market price. Have your gold turned into a memorable keepsake before boarding the train for the return back to the station.

All pricing above is in US Dollars, per person. Port charges & taxes are additional. Pricing is based on two people sharing and subject to availability. The "From" price listed on our website is for the May 8th departure date; other dates may have different pricing, please inquire. All pricing is based on availability and subject to change by the cruise line at any time. For more information please contact one of our Alaska Specialists!