Alaska Cruise Tour Sale with Norwegian Cruise Line!
Explore more of Alaska by both sea and land in one seamless Alaska trip, plan an authentic vacation that goes beyond the expected. Think wild, and search for bear, moose and caribou in Denali. Witness nature at its most enticing with glacier-fed lakes and inspiring mountains. Feel a part of Alaska's individualist lifestyle as you visit local artist and fishing communities in Homer. Or put your bedtime on hold and join in on the Midnight Sun events during the bright summer solstice. Our Alaska tours give you hundreds of unique moments to capture, keep and treasure forever.
Norwegian's Best-Value Land & Sea Tour
4-Day escorted motorcoach & railroad tour offered after the 7-Day Glacier Bay Northbound Cruise
2 nights Denali, 1 night Anchorage, Alaska Railroad in Adventure Class from Talkeetna to Denali, Natural History Tour into Denali National Park, Anchorage city tour, and Alaska Wildlife Conservation Center Tour.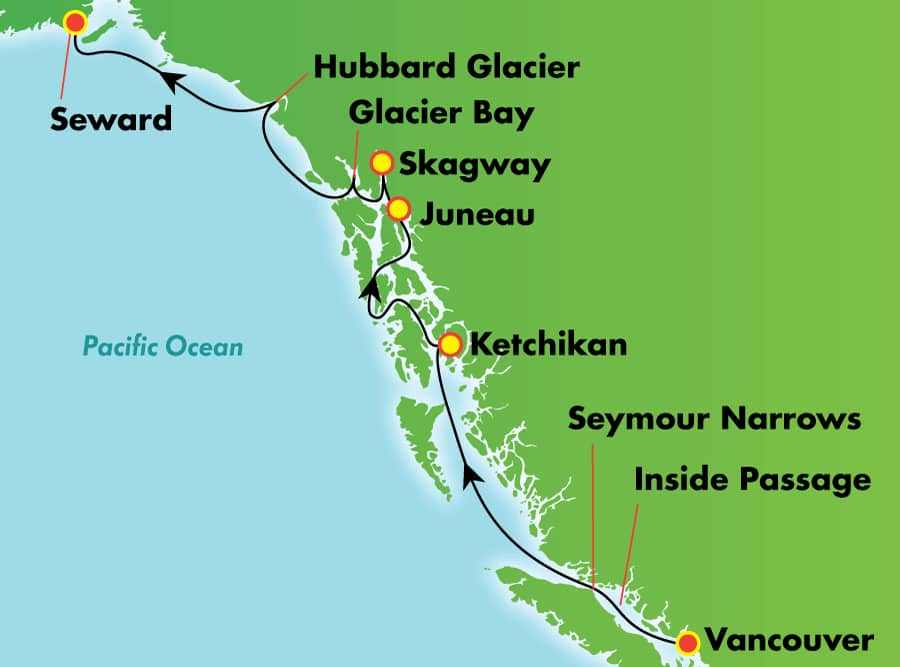 11 Day Anchorage Denali Express Alaska Cruise Tour
Highlights: 7-Night Glacier Alaska Cruise PLUS 3 Night Land Tour Featuring 2 Nights Denali, 1 Night Anchorage
on board Norwegian Jewel
Alaska Cruisetour Itinerary:
Day 1 - Vancouver
Day 2 - Inside Passage Cruising
Day 3 - Ketchikan
Day 4 - Skagway
Day 5 - Juneau
Day 6 - Icy Strait Point
Day 7 - Glacier Bay National Park Cruising
Day 8 - Hubbard Glacier Cruising
Day 9 - Seward to Denali
Day 10 - Denali
Day 11 - Denali to Anchorage
Day 12 - Anchorage
Land Tour Highlights
-4-Day land tour fully escorted by a local Alaskan guide
-World-famous Alaska Railroad Adventure Class journey
-Optional activities in Denali National Park, including whitewater rafting, Bush Pilot flightseeing, hiking or Park Service programs
-5-Hour Denali Natural History Tour narrated by an Alaska naturalist
-Alaska Wildlife Conservation Center Tour
-Brief Anchorage city tour
Authentic Exclusives
-Tour fully escorted by local Alaskan guide
-Guaranteed animal sightings
2019 Dates:
May 20, 24*
June 3, 17, 21*
July 1, 5*, 15, 19*, 29
August 2*, 12, 16*, 26, 30*
September 9, 13*
*Reverse direction from Anchorage to Vancouver
From $1799 US
Free At Sea - Choose Up To 6 Free Offers!
-Free Unlimited Open Bar
-Free Shore Excursions
-Free Specialty Dining
-Free WiFi Internet
-Free Airfare
-Friends & Family Sail Free Or Pay Reduced Rates

Alaska Cruise Tour Highlights:
Ketchikan, Alaska - Its Tlingit Indian name, Kach Khanna, means spread wings of the eagle. Chances are you'll see one of these magnificent birds perched atop a Sitka tree. Thanks to its abundant rainfall, Ketchikan is surrounded by some of the world's most lush wilderness.
Skagway, Alaska - In a single year from 1896 to 1897, this remote town along the Inside Passage grew from a few tents to a city of 20,000 gold seekers. Today, travelers come in search of other riches – to experience yesteryear along Skagway's charming boardwalk lined with buildings that replicate those Gold Rush days.
Juneau, Alaska - Juneau has been called Alaska's peak experience, certainly due in part to its unparalleled glacier viewing from such places as Tracy Arm Fjord, the Juneau Icefields and Glacier Bay National Park. Kayak up one of the area's many protected waterways, go flightseeing, tour historic downtown or try your hand at panning for gold. The majestic Mendenhall Glacier lies nearly 12 miles outside Juneau, a treck worthwhile.
Icy Strait Point, Alaska - The Icy Strait Point experience combines authentic regional culture with incredible natural beauty. Enjoy Tlingit dancing and art. Or get closer than you'd ever imagine to humpback whales and brown bears in the wild. Work up a wilderness hunger and satisfy it with fresh Dungeness crab. Take a cruise from Icy Strait Point and enjoy Alaska's awe-inspiring scenery and the many excursion options that Norwegian Cruise Line has to offer.
Two Days Cruising Glaciers Including Glacier Bay National Park and Hubbard Glacier!
Seward, Alaska - Best known for its beautiful parks and mountain scenery, Seward, Alaska is not to be missed. There is nearly an endless variety of outdoor activities to enjoy in Seward, from mountain biking and climbing, to rafting, sea kayaking, and dog-sledding, and even skiing, fishing or white water rafting. Explore scenic hiking trails or have a picnic among the pristine landscape. There's no shortage of enjoyable pastimes in Alaska's City of Seward.
Denali National Park - Explore the six-million acre wild land, Denali National Park, as you venture through this pristine region of Alaska on the only road into and out of the park.

Norwegian Jewel will take you up the Pacific Coast to America's frontier state on an Alaska cruise. While you're becoming a world traveler, you won't have to worry about what to do or where to go, as there are 16 dining options, 11 bars and lounges, the relaxing Body Waves Spa and the always-exciting Club Casino.
Thrilling Entertainment - From the stages to the lounges, we'll have you singing along, moving your feet and getting into the groove. Take a walk on the wild side in the production of Rock You Tonight, a high-energy tribute to such rock icons as Queen, Journey and The Who.
16 Extraordinary Dining Options - Sit down to a multi-course meal with a great bottle of wine. Or grab a burger hot off the grill. Go French, Italian, Brazilian, Asian - you name it. With 16 dining options, your taste buds will always be in for a thrill.
Explore more of Alaska by both sea and land in one seamless vacation, plan an authentic vacation that goes beyond the expected. Think wild, and search for bear, moose and caribou in Denali. Our Alaska Cruise tours give you hundreds of unique moments to capture, keep and treasure forever.

All pricing above is in US Dollars, per person. Port charges & taxes are additional. Pricing is based on two people sharing and subject to availability. The "From" price listed on our website is for the September 13th departure date; other dates may have different pricing, please inquire. All pricing is based on availability and subject to change by the cruise line at any time. For more information please contact one of our Alaska Specialists!