14 Day Deluxe Alaska Cruise Tour Special!
Alaska is filled with scenic wonders - tall mountains and enormous glaciers, meadows where wildlife graze and hunt, Gold Rush-era frontier towns and some of the country's greatest national parks. Our Deluxe Alaska Cruise Tour will show you exactly the Alaska you most want to see!
Denali National Park, Mt. McKinley and Anchorage. Enjoy the best features of our Denali Explorer vacation, including time at our Denali-area lodges, with adventures to breathtaking Alaska attractions beyond.
This Denali Explorer Deluxe Alaska Cruise Tour combines a 6 night land package with a 7 night cruise. Featuring 2 nights Fairbanks, 2 nights at the Denali Princess Wilderness Lodge, and 2 nights at the Mt. McKinley Princess Wilderness Lodge. Plus two glacier viewing experiences, including dazzling Glacier Bay National Park, and you'll visit the frontier ports of Skagway, Juneau and Ketchikan. Princess also offers an array of optional land excursions, allowing you to experience the area in every way imaginable, from wildlife viewing to river rafting, kayaking, and more.
14 Day Deluxe Denali Explorer Alaska Cruise Tour
Highlights: 7 Night Voyage of the Glaciers Alaska Cruise PLUS 6 Night Land Tour Featuring 2 Nights Mt. McKinley Princess Lodge, 2 Nights Denali Princess Lodge, 2 Nights Fairbanks
14 Day Alaska Cruise Tour Itinerary:
Day 1 - Vancouver, BC
Day 2 - Inside Passage Cruising
Day 3 - Ketchikan
Day 4 - Juneau
Day 5 - Skagway
Day 6 - Glacier Bay National Park Cruising
Day 7 - College Fjord Cruising
Day 8 - Whittier / Mt. McKinley
Step off your ship into a waiting railcar for our exclusive Direct-to-the-Wilderness same-day rail service to Talkeetna, then on to the Mt. McKinley Princess Wilderness Lodge. Get settled, and perhaps enjoy an optional afternoon excursion. The 20,320 Alaskan Bar & Grill is the perfect place for a relaxed dinner to end your first day in the Denali area.
Day 9 - Mt. McKinley
A full day at the Mt. McKinley Princess Wilderness Lodge means you'll have ample time to both relax and explore. The nature trails around the grounds is a pleasant way to get a sense of the place. And our Princess staff can help you choose from a generous offering of outdoor activities.
Day 10 - Mt. McKinley / Denali
Enjoy a scenic motorcoach drive to the Denali Princess Wilderness Lodge, located just outside the national park entrance. Why not get to know the splendor of the park with one of a variety of activities including a husky homestead tour, fly fishing or a glacier landing via helicopter.
Day 11 - Denali
You have a full day to get out into one of America's best national parks. This morning, a Natural History Tour serves as a wonderful introduction to the animals, plants and geological features found there (you may upgrade to the Tundra Wilderness Tour if interested). Later today, you may want to stop by the tour desk to plan an activity such as rafting or hiking.
Day 12 - Denali / Fairbanks
You'll have the morning to relax. Your motorcoach is waiting to take you from a wonderful stay in Denali along the scenic George Parks Highway to your next destination - Fairbanks. Enjoy the authentic Gold Rush atmosphere in this unique town.
Day 13 - Fairbanks
This morning, take a Gold Dredge #8 tour with the chance to pan for your own gold. Enjoy a miner's lunch before taking a cruise on an authentic Sternwheeler Riverboat down the Chena River. The evening is at your leisure in Fairbanks.
Day 14 - Fairbanks
Your Deluxe Alaska cruise tour ends this morning in Fairbanks.

2018 Dates:
Northbound Dates:
May 9, 12, 16, 19, 23, 26, 30
June 2, 6, 9, 13, 16, 20, 23, 27, 30
July 4, 7, 11, 14, 18, 21, 25, 28
August 1, 4, 8, 11, 15, 18, 22, 25, 29
September 1, 5
Southbound Dates:
May 10, 13, 17, 20, 24, 27, 31
June 3, 7, 10, 14, 17, 21, 24, 28
July 1, 5, 8, 12, 15, 19, 22, 26, 29
August 2, 5, 9, 12, 16, 19, 23, 26, 30
September 2, 6
From $1789 US

Optional Alaska activities are available to enhance your vacation! Enjoy a flight seeing excursion that takes you within six miles of Mt. McKinley Summit, enjoy a wilderness hike out of Mt. McKinley, whale watch and attend a salon bake in Juneau, see the Native tradition of totem carving in Ketchikan, ride the rails in Skagway, or take a wilderness trail ride in Denali State Park.
You'll stay in these beautiful Princess Wilderness Lodges:
Mt. McKinley Princess Wilderness Lodge
Picture-perfect wilderness retreat just south of Alaska's Denali National Park. From the moment you arrive at Mt. McKinley Princess Wilderness Lodge in Denali State Park, you know you're somewhere special. Located south of the National Park near the Chulitna River, Mt. McKinley Lodge is a true wilderness retreat with a host of recreational activities, exceptional amenities, and awesome views of Mt. McKinley. Plan a day trip into Talkeenta with our daily shuttle service for only $10 roundtrip or relax on the deck at the lodge after a walk on one of our many hiking trails. Our premier wilderness lodge has it all!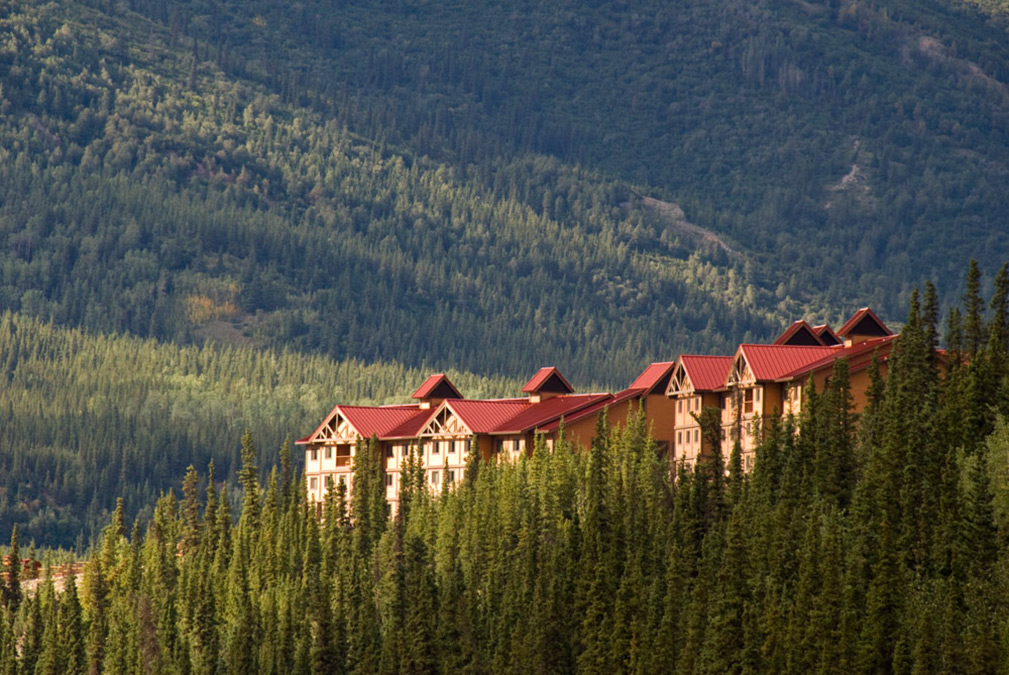 Denali Princess Wilderness Lodge
This gorgeous Alaska lodge is the perfect starting point for your wilderness adventure. You haven't fully experienced Alaska unless you've been to Denali National Park. Its boundaries encompass an impressive six million acres - the size of the state of Massachusetts. Home to Mt. McKinley, North America's highest peak towers an unbelievable 20,320 feet in the sky. The Park hosts an array of wildlife from moose, caribou, Dall sheep and grizzly bears to gray wolves and red foxes. The Denali Princess Wilderness Lodge is the closest and most comfortable place to stay when visiting the park. The entrance to Denali National Park is located only a mile from our front door. With an expansive deck overlooking the Nenana River with views into the park, Denali Princess Wilderness Lodge is the ideal spot to relax, visit with friends, and savor the exquisite landscape.

All pricing above is in US Dollars, per person. Port charges & taxes are additional. Pricing is based on two people sharing and subject to availability. The "From" price listed on our website is for the May 16th departure date; other dates may have different pricing, please inquire. All pricing is based on availability and subject to change by the cruise line at any time. For more information please contact one of our Alaska Specialists!