11 Day Alaska Cruise Tour Special!
Skyscraping tidewater glaciers at sea, mountains soaring high above the clouds on land, and abundant wildlife awaken your sense of adventure. These are the many wonders of Alaska, the Great Land. And there's no better time than during our 50th Anniversary season to see the best of it all.
Princess Cruises is #1 in Alaska, taking more people to the Great Land than any other cruise line. Explore for 3 nights traveling across the vast wilderness via Princess Rail to one of the state's awe-inspiring national parks. Then, enjoy sailing the sheltered waters of Alaska's fjords and Inside Passage on a 7 night southbound cruise. Princess will take you on an experience that will truly expand your horizons and leave you with a renewed sense of wonder.
Highlights: 3 Night Land Tour Featuring 2 Nights Fairbanks,
1 Night Denali Princess Lodge PLUS 7 Night Voyage of the Glaciers Alaska Cruise
11 Day Alaska Cruise Tour Itinerary:
Day 1 - Vancouver
Day 2 - Inside Passage Cruising
Day 3 - Ketchikan
Day 4 - Juneau
Day 5 - Skagway
Day 6 - Glacier Bay National Park Cruising
Day 7 - College Fjord Cruising
Day 8 - Whittier / Denali
Board your comfortable motorcoach for a scenic ride that takes you straight from the ship to the Denali Princess Wilderness Lodge, situated a short shuttle ride away from spectacular Denali National Park. This evening, relax on the deck and enjoy stunning views of the Nenana River Canyon.
Day 9 - Denali / Fairbanks
The morning is free to relax or opt for an activity such as the Natural History Tour into Denali National Park. Then, travel by luxury rail on a scenic journey to Fairbanks.
Day 10 - Fairbanks
Spend a wonderful day in the Golden Heart City. The entire day is free to spend however you choose. Stop by the tour desk to plan optional excursions.
Day 11 - Fairbanks
Your tour ends this morning in Fairbanks.

2018 Dates:
May 9, 12, 19, 23, 26
June 2, 6, 9, 16, 20, 23, 30
July 4, 7, 14, 18, 21, 28
August 1, 4, 11, 15, 18, 25, 29
September 1
From $1029 US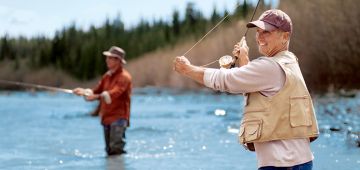 The 11 Day Alaska Cruise Tour special above is one of our more affordable options. A land & sea vacation geared for the more independent-minded traveler. With no pre-scheduled sightseeing activities, this package lets you customize your 3 nights on land with a variety of optional land excursions. Highlights of this Alaska Cruise Tour package include:
Fairbanks
Established by the discovery of gold by Felix Pedro in 1902, Fairbanks is located in the Tanana Valley of Alaska's interior. In the early 20th century, sternwheelers carried settlers and miners along the Chena and Tanana Rivers as they do for visitors today. The second-largest city in Alaska, Fairbanks is named the '''Golden Heart City'' for its historical and modern gold industries and for its central location. The city serves as the hub of the region known as Alaska's Interior. In the summer, visitors and residents alike enjoy nearly 24 hours of light daily. Visitors have many choices in Fairbanks. Experience Fairbanks' rich Gold Rush history via sternwheeler, or visit one of the region's many gold mines. The Arctic Circle and the Yukon River are just a short flight away.
Denali Princess Wilderness Lodge
This gorgeous Alaska lodge is the perfect starting point for your wilderness adventure. You haven't fully experienced Alaska unless you've been to Denali National Park. Its boundaries encompass an impressive six million acres - the size of the state of Massachusetts. Home to Mt. McKinley, North America's highest peak towers an unbelievable 20,320 feet in the sky. The Park hosts an array of wildlife from moose, caribou, Dall sheep and grizzly bears to gray wolves and red foxes. The Denali Princess Wilderness Lodge is the closest and most comfortable place to stay when visiting the park. The entrance to Denali National Park is located only a mile from our front door. With an expansive deck overlooking the Nenana River with views into the park, Denali Princess Wilderness Lodge is the ideal spot to relax, visit with friends, and savor the exquisite landscape.
Glacier Bay National Park - Princess is one of a select few cruise lines permitted to cruise the pristine waters of Glacier Bay, the highlight of our 7-day Voyage of the Glaciers cruise. Just west of Juneau, this breathtaking national park and preserve boasts some of the world's most spectacular tidewater glaciers, such as Margerie Glacier, which often drops colossal chunks of ice into the sea. Not surprisingly, Glacier Bay National Park and its epic ice giants are part of a UNESCO World Heritage Site comprising Alaska's magnificent park system. During your scenic cruise, friendly Park Rangers will join the ship to share their knowledge of this amazing place and host a fun Junior Ranger program for kids. They may even be able to help you identify Glacier Bay's abundant wildlife, including humpback whales, sea otters, porpoises, harbor seals, black bears, mountain goats, bald eagles and large colonies of seabirds. Take in the awe-inspiring scenery as you enjoy an unforgettable day of sailing through this dazzling park, where you'll glide along emerald waters and past calving icebergs, and can breathe in the crisp, fresh air to your heart's content.

All pricing above is in US Dollars, per person. Port charges & taxes are additional. Pricing is based on two people sharing and subject to availability. The "From" price listed on our website is for the May 12th departure date; other dates may have different pricing, please inquire. All pricing is based on availability and subject to change by the cruise line at any time. For more information please contact one of our Alaska Specialists!