Inside Passage Alaskan Cruises on Sale!
Celebrity Infinity takes you on a 7 day cruise roundtrip from beautiful Vancouver. You'll enjoy a pampering five-star experience as you sail the glistening glaciers and stunning coastline of Alaska. On board you'll experience incredible cuisine and entertainment. Ashore you'll indulgence in all that Alaska has to offer; riding on a vintage train through Alaska's pristine valleys, flying over the immense Mendenhall Glacier in a helicopter, dog-sledding across snow-covered glaciers or panning for gold. Celebrity Cruises' shore excursions enhance your Alaska cruise vacation and when you book early you'll receive the choice of a special amenity to enhance your vacation. Come experience Alaska with Celebrity.
7 Day Inside Passage Alaska Cruise Special
onboard Celebrity Infinity
Cruise Itinerary:
Day 1 - Vancouver, BC
Day 2 - Inside Passage Cruising
Day 3 - Icy Strait Point or Sitka (3:30pm to 10pm)
Day 4 - Hubbard Glacier Cruising (10:30am to 2:30pm)
Day 5 - Juneau (7:30am to 8pm)
Day 6 - Ketchikan (2pm to 8:30pm)
Day 7 - Inside Passage Cruising
Day 8 - Vancouver, BC
2018 Dates:
July 22, 29
August 5, 12, 19, 26
From $1099 US
Includes $50 USD Shipboard Spending Money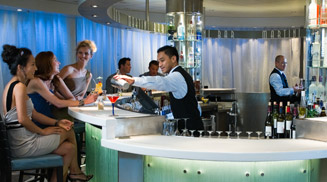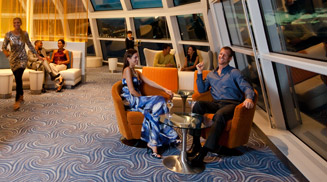 Alaska Cruise Highlights:
Icy Strait Point - For thousands of years, the Tlingit Indians have called this place home. Located just 22 miles southeast of Glacier Bay National Park, Icy Strait Point offers travelers the chance to view wildlife like humpback whales, eagles, and brown bears, or to explore monuments to the regionís fishing heritage.
Hubbard Glacier - Hubbard Glacier is the largest calving glacier on the North American continent. The glacier routinely calves off icebergs as high as 10-story buildings, sending massive blocks of ice into the sea every few minutes.
Juneau - Here's your chance to take a glacial dogsled adventure via helicopter in Alaska's capital. A city that gracefully balances frontier ruggedness with cosmopolitan flair. Mendenhall Glacier, a river of ice measuring 1.5 miles in width and over 6 miles in length, is part of Juneau's Icefield, 1500 square miles of ice that feeds 38 glaciers and ready for you to take a float trip on it.
Ketchikan - You've never tasted salmon so fresh. Known as the 'Salmon Capital of the World', Ketchikan is also the ancestral home of the Tlingit people, who have carved the world's largest collection of totem poles. If you're up for an adventure, take a canoe and nature trail excursion through the rain forest or a wilderness exploration followed by a sumptuous crab feast you can't resist.
Inside Passage - You'll sail beyond the Inside Passage into the more protected Alaska Inside Passage, a complex labyrinth of fjords and bays where whales and sea lions find refuge during the summer months.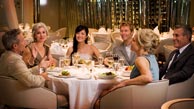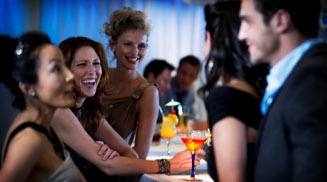 Celebrity Infinity
Welcome aboard Celebrity Infinity with her new, Solsticized sense of style and excitement. Relax in her spa-inspired AquaClass accommodations featuring exclusive access to Blu, our delicious Mediterranean focused clean cuisine restaurant. Keep in touch at the hip Celebrity iLounge where you can participate in the iLearn enrichment series or pick up the latest high-tech wonder from the first Apple Reseller at Sea. Enjoy sweet or savory crepes at Bistro on Five. And get ready to have a uniquely unordinary dinner at the innovative Qsine specialty restaurant, where you order from an iPad. Finish with a chilled Peartini at the ice-topped Martini Bar. Celebrity Infinity will make the most of your precious vacation days. Ready to be impressed? Fantastic.
Celebrity Infinity, one of our cherished Millennium Class ships, has been infused with modern luxury and favorite Solstice Class amenities. So now you can enjoy her familiar charms along with sophisticated new surroundings and even more onboard experiences to enjoy.
Canyon Ranch SpaClub
Relax and rejuvenate in our serene spa at sea. Experience the unique services of Canyon Ranch in a breathtaking setting - aboard Celebrity's modern luxury ships. Enhance your vacation with a complete wellness and lifestyle program that increases resilience, restores serenity, and helps you feel rejuvenated.
Celebrity iLounge
Keep in touch 24 hours a day in the Celebrity iLounge, our one-of-a-kind hip Internet lounge that is the first Authorized Apple Reseller at Sea. Celebrity iLounge also offers various iLearn classes to help you master the latest photography, video and audio skills.
Cafe al Bacio & Gelateria
The warm atmosphere, comfortable furniture and the sweet scent of the Gelateria's freshly baked waffle cones create an instant emotional connection. Cafe al Bacio is a great place to relax, any time of day. Many like to stop by in the evening for one of the specialty dessert cocktails, and chat about a great meal that they had or a wonderful show they just enjoyed. There's always something to talk about at Cafe al Bacio.
Qsine
Qsine, our one-of-a-kind specialty restaurant, features a uniquely unordinary approach to dining. At Qsine, we strive to awaken your palate through a modern and whimsical approach to familiar dishes from around the world. Food is artfully presented, without traditional courses, and intended to be shared. And, to make it even more playful, the menu and wine list are creatively presented on an iPad. Let your Culinary Tour Guide take you on an unforgettable journey.
We think you should have the kind of vacation worth remembering - not just isolated moments, but rather your entire vacation. The amazing cuisine in our restaurants. Our renowned and unmatched, personal service. Our stylishly decorated staterooms and public spaces. And, of course, the chance to do as much (or as little) as you choose. It might sound strange, but when the time comes to bring your Alaska vacation to a close, we don't want you to remember a single thing from your Celebrity cruise - we want you to remember everything.

All pricing above is in US Dollars, per person. Port charges & taxes are additional. Pricing is based on two people sharing and subject to availability. The "From" price listed on our website is for the July 29th departure date; other dates may have different pricing, please inquire. All pricing is based on availability and subject to change by the cruise line at any time. For more information please contact one of our Alaska Specialists!