Alaska Cruises From Seattle with Royal Caribbean!
Alaska: Now bigger than ever with Explorer of the Seas
Explorer of the Seas takes on the Last Frontier, as the biggest, most innovative ship to ever cruise Alaska. Enjoy views from every room, thanks to new Virtual Balconies that bring real-time outdoor sight to interior staterooms. Plus family-friendly experiences that ensure you'll never be bored onboard. No journey stays with you, mind and soul, like an expedition through Alaska. From the blue ice of massive glacial fields to the stunning grandeur of the scenery and wildlife, everything in Alaska is big, bold and absolutely breathtaking. Including the adventures.
7 Day Alaska Cruises
onboard Explorer of the Seas
Alaska Cruise Itinerary:
Day 1 - Seattle, WA
Day 2 - Cruising
Day 3 - Alaska's Inside Passage Cruising
Day 3 - Juneau, Alaska (12 to 9pm)
Day 4 - Skagway, Alaska (7am to 8:30pm)
Day 5 - Tracy Arm Fjord & Sawyer Glacier Cruising (7am to 12pm)
Day 6 - Cruising
Day 7 - Victoria, BC, Canada (9am to 6pm)
Day 8 - Seattle, WA
2018 Dates:
July 20, 27
August 3, 10, 17, 24, 31
September 7
From $999 US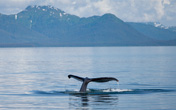 Alaska Cruise Highlights:
Juneau, AK - Surrounded by fjords, forest and snow-capped mountains, Juneau is one gorgeous state capital. Its historic downtown harkens back to its gold-rush origins and you can still pan for gold. But nature is the priceless treasure.
Skagway, AK - The great Klondike Rush lives on in Skagway's charming downtown of restored 19th-century buildings and its historic railway. From the vintage train, admire the mountains and see the 1898 trail that fortune seekers traveled on foot.
Tracy Arm Fjord Cruising - Just south of Juneau lies the magnificent Tracy Arm Fjord, carved by glacier activity. Among the sights to admire from the icy waters are waterfalls cascading down 3,000-foot-high granite walls.
Victoria, BC - The capital of British Columbia is filled with blooming gardens, heritage architecture and historic charm. The heart of Victoria is its scenic harbor and Old Town, compact areas that are made for strolling and easily explored on foot.
Seattle, WA - Famously rainy and picturesque, Seattle sits on Puget Sound against a spectacular mountain backdrop. Soak up the city's scene in one the many coffeehouses or head down to the lively Pike Place Market to feast on artisanal and local foods.

Is it adventure you seek, or a restful retreat from life on land? Royal Caribbean's Explorer of the Seas is home to an array of innovations that give you whatever type of vacation you desire. Climb a rock wall that overlooks the sea, or find your adventure on the basketball court, ice-skating rink or mini-golf course. If it's zen you seek, achieve it poolside or at the relaxing Vitality Spa. Liven up your nights on the Royal Promenade, with parades, dancing, and duty-free shopping deals. And bring along some friends - with spacious public areas, enhanced staterooms, and a spectacular three-story dining room, this ship has room for your whole crew.
Explorer of the Seas has completed a revitalization that will bring you more NEW innovative features at sea such as the FlowRider surf simulator, a 3-D movie theatre, all new staterooms including new virtual balconies and new dining experiences. An Alaska cruise on Explorer of the Seas is THE family cruise holiday for 2018!

All pricing above is in US Dollars, per person. Port charges & taxes are additional. Pricing is based on two people sharing and subject to availability. The "From" price listed on our website is for the August 31st departure date; other dates may have different pricing, please inquire. All pricing is based on availability and subject to change by the cruise line at any time. For more information please contact one of our Alaska Specialists!