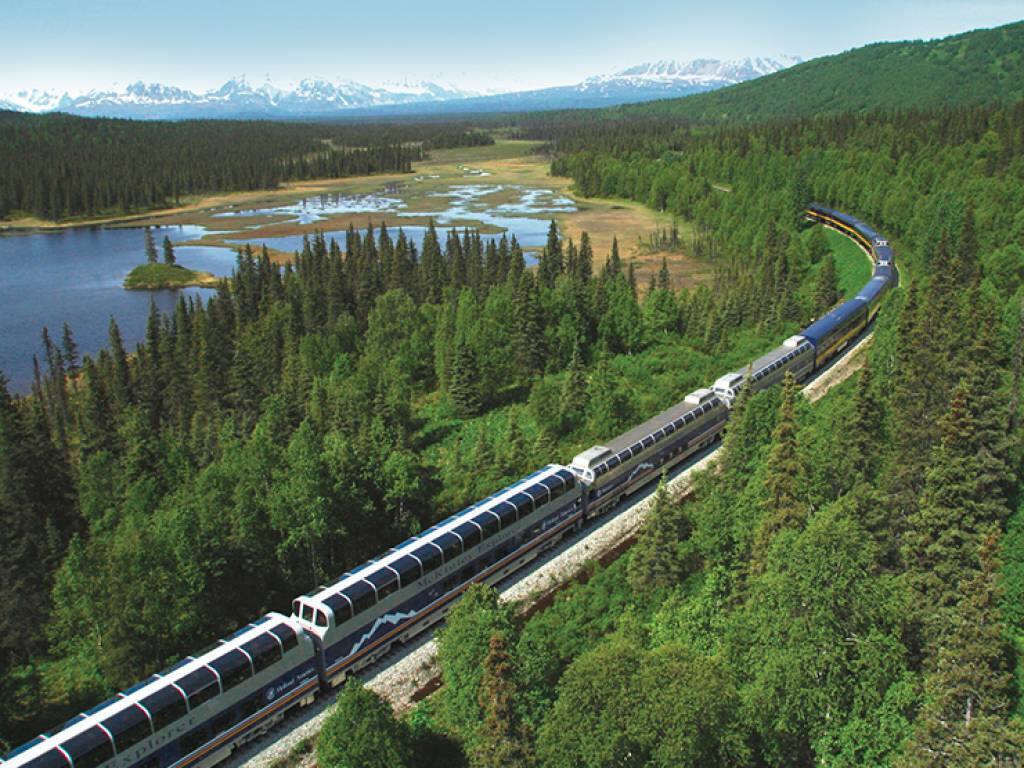 Value Alaska Cruise Tours On Sale!
In few places is natural majesty so gloriously expressed. Come visit Alaska and let us show you a land where mountains seem to touch the sky, glaciers flow right to the sea and elegance balances perfectly with adventure. Offering great value in terms of both time and vacation budget, this Alaska cruise tour journey features the essential elements of Alaska's heartland! Enjoy stays in Denali, and Fairbanks. Time in Denali is yours to plan as you wish - choose from the many optional excursions, or simply relax. All this combined with an elegant 7 day Alaska cruise featuring Glacier Bay National Park and Alaska's iconic ports! Plus, you'll feel the spirit of Alaska come to life on board and off via local guides, native artisans and regional culinary experiences.
This value Alaska cruise tour takes you on land and into Alaska for less! You will enjoy 1 night in Denali National Park and 2 nights in Fairbanks after a 7 night Alaska cruise which features the Inside Passage, Juneau, Skagway, Ketchikan, Glacier Bay National Park, and the Gulf of Alaska. Holland America Line takes you on a journey of a lifetime with this special 10 day Alaska cruisetour package.
10 Day / 9 Night Alaska Cruise Tour
Alaska Cruise Tour Inclusions:
-An elegant 7 day Glacier Discovery cruise including sophisticated dining, extensive activities and enrichment programs, and nightly entertainment
-A full day of scenic cruising in Glacier Bay National Park
-All transportation by luxury motorcoach and cruise ship
-Premier overnight accommodations in our newly renovated McKinley Chalet Resort (Denali) and updated property in Fairbanks
Highlights: 7 Night Glacier Discovery Alaska Cruise
PLUS 2 Night Land Tour Featuring 1 Night Denali, 1 Night Fairbanks
Detailed Cruise Tour Itinerary:
Day 1 - Vancouver
Board your Holland America ship this afternoon and set sail under the Lion's Gate Bridge toward the Inside Passage
Day 2 - Inside Passage Cruising
Relax and enjoy a full day of scenic Inside Passage cruising and immerse yourself in Holland America Line elegance
Day 3 - Ketchikan
Explore this uniquely Alaskan port, famous for its rich native culture, salmon fishing, and scenic Misty Fjords
Day 4 - Juneau
Enjoy a full day of exploring Alaska's capital-choose from exciting shore excursions and still have time to shop
Day 5 - Skagway
Step back to the days of the last great gold rush-choose from exciting shore excursions and still have time to shop
Day 6 - Glacier Bay National Park Cruising
Cruise the ice-studded fjords of this national treasure for a full eight hours as a Park Service Ranger narrates
Day 7 - Gulf of Alaska Cruising
Enjoy a leisurely day of cruising
Day 8 - Denali National Park
Disembark and enjoy deluxe motorcoach sightseeing to Denali National Park for a one night stay at this majestic national treasure (lunch included)
Day 9 - Fairbanks
Today you'll head for Fairbanks, Alaska's Golden Heart City
Day 10 - Fairbanks
Your Alaska Cruise tour package concludes this morning in Fairbanks
2019 Dates:
Northbound:
May 12, 19, 26
June 2, 9, 16, 23, 30
July 7, 14, 21, 28
August 4, 11, 18, 25
September 1, 8
Southbound:
May 17, 24, 31
June 7, 14, 21, 28
July 5, 12, 19, 26
August 2, 9, 16, 23, 30
September 6, 13
From $799 US

Alaska Cruise Tour Highlights:
Denali National Park - Every turn on the Denali park road heralds some new astonishment. Watch for ptarmigan, Alaska's state bird, in the open valleys and golden eagles patrolling the higher elevations and ridge tops. With luck, you'll see grizzlies crossing braided streams, Dall sheep traversing rugged cliffs and moose foraging in upland meadows. Listen to ravens, magpies and gray jays chattering in the brush. And always present, there looms Mount McKinley, raising its massive alabaster bulk high above the surrounding plain.
Anchorage - Anchorage flaunts its mountains: The Chugach seem to rise just like that out of the backyards of city's eastern neighborhoods. So much of the rest of the scenery is water. The west of the city is bounded by the Cook Inlet, the north and south by its two major branches: the Knik Arm and Turnagain Arm. Hit Anchorage on the solstice and enjoy the restaurants, saloons, museums and galleries in round-the-clock sunshine. Extend your stay and take advantage of the many optional tours that spotlight Alaska's history, culture and outdoor lifestyle.
Fairbanks - Fairbanks is the northernmost city of consequence in the United States and cruise to Alaska with Holland America Line gives you the chance to head deep into the heart of the Great Northland. The city's location on the broad Tanana River plain between the White Mountains and the Alaska Range affords easy passage to the Arctic Circle and the Alaskan wild country.
Holland America Line - Always at the heart of the Holland America cruise experience is our warm and award-winning style of service that is never in the way and never out of reach. We sail with nearly one crew member for every two guests, providing the intuitive, gracious service that has long defined classic cruising. Our extensive on board services, from special dining requests to full service laundry and dry cleaning services, are designed with your comfort and convenience in mind. Our specially trained crew takes pride in anticipating and fulfilling your every wish. From our waiters and bartenders to our chefs and wine experts, our spa technicians and fitness instructors to our officers and housekeeping staff, everyone is dedicated to providing you with the gracious and personalized service that will make your cruise vacation memorable. On board the ships of Holland America Line you'll discover a cruise experience that is modern, fresh and appealing - in an ambiance that is timeless and refined.
From the moment you step aboard one of our mid-sized cruise ships you will recognize the Holland America Line difference. Our cruises sail with nearly one crew member for every two guests, providing the gracious, award-winning service that defines classic cruising. Our cruise ships feature spacious wraparound teak decks, panoramic views, abundant spacious private verandah's and large staterooms. All our cruise ships have recently completed extensive Signature of Excellence enhancements to staterooms and public rooms. With elegant fine dining and enriching activities, welcome aboard a Holland America Line cruise ship and discover timeless cruising, refined for a new generation.
Sample Alaska excursions offered on this value Alaska Cruise tour package:
-McKinley Glacier Landing by Airplane
-Husky Homestead Tour
-Journey Above the Arctic Circle, Fort Yukon
-Mendenhall Glacier by Helicopter & Guided Walk
-Mendenhall Glacier & Whale Quest
-Magnificent Misty Fjords by Floatplane
-Rain Forest Canopy & Zipline Expedition
-Seward to Anchorage: Tour Upgrade to include Kenai Fjords National Park Cruise
-White Pass Summit Scenic Railway
-Skagway's Original Street Car
Click Here For More Alaska Specials!

All pricing above is in US Dollars, per person. Port charges & taxes are additional. Pricing is based on two people sharing and subject to availability. The "From" price listed on our website is for the May 19th departure date; other dates may have different pricing, please inquire. All pricing is based on availability and subject to change by the cruise line at any time. For more information please contact one of our Alaska Specialists!